UNDERSTANDING DECLAWING (ONYCHECTOMY)
The cat claw is not the same type of nails that we, humans, have. The cat claws arise from the last, the distal, phalanges of their paws. Declawing is amputating the distal phalanges up to the joint, including bones and all the tissues connected to the bones – ligaments and tendons, and nerves.
The recovery from this surgery is painful and lengthy. Moreover, it may involve complications such as infections and hemorrhage. Some cats' personalities change because of suffering and shock associated with very painful recover period. Others, deprived of their defense tool, become nervous and aggressive. Using litter box is very uncomfortable for declawed cats. It might lead to urinating and defecating outside the litter box.
Declawing does not provide any medical benefits to the cat and destroy the "catness" of cats. Declawing is illegal in many countries: England, Scotland, Wales, Italy, France, Germany, Austria, Switzerland, Norway, Sweden, Netherlands, Northern Ireland, Ireland, Denmark, Finland, Slovenia, Portugal, Belgium, Brazil, Australia, New Zealand, Yugoslavia, and Japan.
Declawing is not an acceptable action toward the beautiful, loving animal. Scratching is cat's natural behavior. Introduce the scratching post to your cat on the very first day. Encourage your cat to use scratching post. Let your cat know you disapprove his using your furniture for scratching and you like when he use a scratching post. You could spray it with cat nip or attach some of cat's favorite toys to it. Trim your cat's nails tips.
HOW TO TRIM CATS NAILS
*Gently press the cat's toe pads to reveal sharp claws in need of a trim.
*Cut the tip of the nail avoiding quick (pink tissue).
If you accidentally clip into the quick, touch a styptic pencil to the claw end or pat on styptic powder to help staunch the bleeding.
You will need claw trimmers or sharp nail clippers for humans and a styptic (astringent) pencil or powder in case you accidently cut too deep.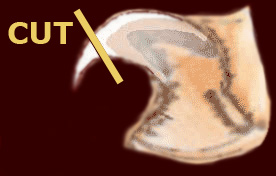 If your cat refuses to allow you to clip his claws, get help from a professional groomer. Your animal companion deserves a manicure just as you do J
PLEASE DO NOT DECLAW!
THE RECOMMENDATIONS ABOVE ARE BASED ON MY OWN OPINION AND EXPERIENCE.

© Burma Charm